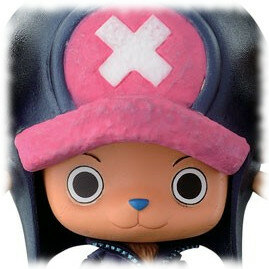 Stocked
Banpresto has made a series of new figures from One Piece on the occasion of the new movie "One Piece Film: Gold", which could be seen in Japanese cinemas starting in July 2016.
Do they fly in that movie? The Straw Hat Pirates all get new black outfits, and Chopper here seems to wear a kind of flight suit, as if he plans to jump out of a plane. It does look cool on him, though. His hat has been changed into an aviator hat with a bit of the usual pink design left. He's making a determined face and stands in a confident pose. Not bad for a reindeer the size of a small child!
Apart from him we have more Straw Hat Pirates in matching outfits. They will look great if displayed as a group! All figures are sold individually.