Preorder
The construction of the destroyer Akizuki was finished on June 11th 1942. The was the first ship of the identically named class. Her name, meaning Autumn Moon, was passed down twice till this day, each time to ships which were the leading ships of their respective class as well. In Kantai Collection Akizuki belongs to five shipgirls with animated turrets. Hers is named Choujuusenchihou-chan and belongs to her anti-air equipment.
With this nendoroid no. 655 you can display Akizuki in her game card posture, which looks a bit cuter than usual of course. To show how she fires her guns and torpedoes some effects are included, like muzzle flashes for the turrets and a cloud of smoke for the torpedoes. Also there's canned meat and a dish of rice balls, which Akizuki gets excited about – a reference to the fact that food was often scarce on ships during the late period of war. Last but not least you can portray Akizuki as her damaged version, complete with torpedoes which hit her. With this cute, but energetic looking nendoroid there will be variety and fun in your display cabinet!
| | |
| --- | --- |
| Title | Nendoroid 655 Akizuki - English |
| Release | 2017-02-23 |
| Height | 10 cm |
| Price | 62.90 € incl 19% vat |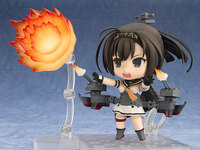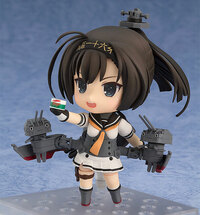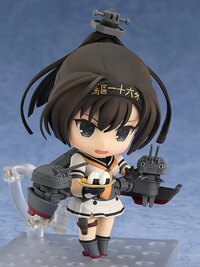 This is a preorder. You can find an approximate release date in the description of the item.
The final product might differ from the pictures in small details.
These figures are suitable for collectors older than 14 years.